WELCOME TO FINCA DOS JEFES,
a sustainable coffee farm located in the mountains of Boquete, Panama where we grow, harvest, process and roast Cafés de la Luna.
Browse our site to learn more about our coffee, farming practices, and coffee farm tours.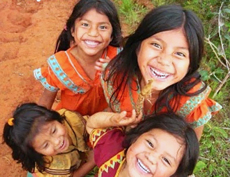 ---
Giving Back to the Community
Finca Dos Jefes is proud to support the children of the Comarca Ngäbe Bugle. During our first visit in 2007, we became aware of the plight of 12 secondary school children who wanted to continue their education, but were faced with a forbidding three hour walk in each direction. Teachers at the magnet school had begun the process of turning an abandoned copper mine building into a dormitory where students could sleep during the week, however they still needed a way to feed these students. We were, and still are, pleased to fund this food program. The program now has 38 participants and is still growing.